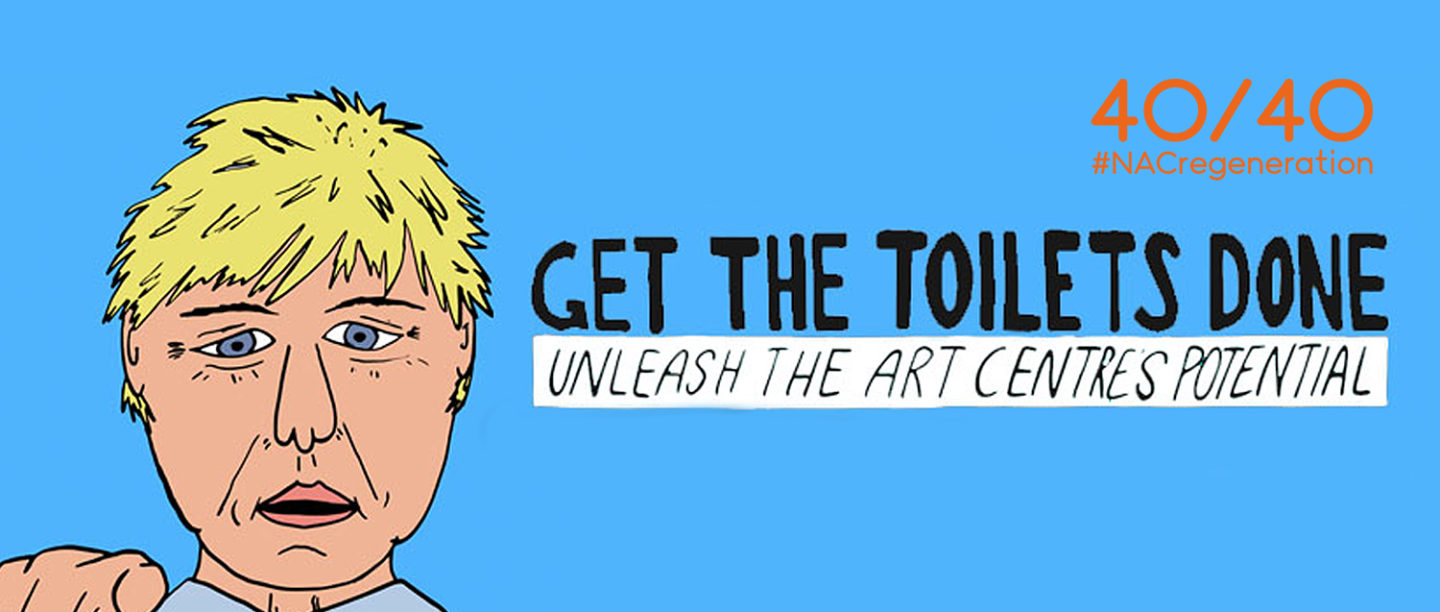 Progress
#NACregeneration has been an interesting and enlightening journey for all of us here at Norwich Arts Centre and we're so proud to have made it to the half way point, October 2019, with Phase 1 of the project complete and 23k of the 40k raised!

#Getthetoiletsdone
It's time to get the Norwich Arts Centre toilets done!
Help us reach our final target by Summer 2020 to enable us to totally refurbish the women's, men's and access toilet as well as building a brand new gender neutral toilet.
We aim to have the new toilets in full working flushable order by September 2020 just in time for our 40th anniversary?
Your contribution will make an impact, whether you donate £5 or £500. Every little bit helps. Thank you for your support!
Thanks to Liam Clark for the artwork.
Donate
We still need your help to unlock the remaining funding!
If everyone who's visited or performed at NAC over the years gives just £1 to #NACregeneration it will make a huge difference to the future of the venue.
In person
Drop a donation in one of our donation boxes at the box office and bar.
Phone
Donate over the phone or add a donation to your booking order.
Text
Text NACFORTY to 70085 to give £1 Or NACMONTHLY to give £1 each month (This costs your donation amount plus two standard rate messages. Thereafter you will be charged £1 per month). You can also give £3, £5, £10, £15 or £20 by adding the number 3, 5, 10, 15 or 20 to your message (eg. NACFORTY 10 to donate £10 one off or NACMONTHLY 10 to donate £10 each month).
Facebook
Donate through our Facebook campaign HERE
Project History
In October 2018 Norwich Arts Centre was awarded £499,000 funding by Arts Council England for an exciting new regeneration project to transform the venue's accessibility and carbon footprint.
To coincide with our 40th anniversary in 2020 we launched our 40/40 campaign to match fund 40k for our 40th.
Last year we raised 25k which saw the completion of Phase 1 of the refurbishment during the Summer of 2019 which focused on refurbishing the bar and auditorium.
This year we need to match fund the remaining 15k to ensure that we receive the full grant and can complete Phase 2 which will focus on the toilets.
Plans are to completely refurbish the women's, men's and access toilet as well as designing a brand new gender neutral toilet.
We have just launched our 'Get the Toilets Done' campaign to encourage our regular customers to help us reach this last hurdle by the Summer 2020.