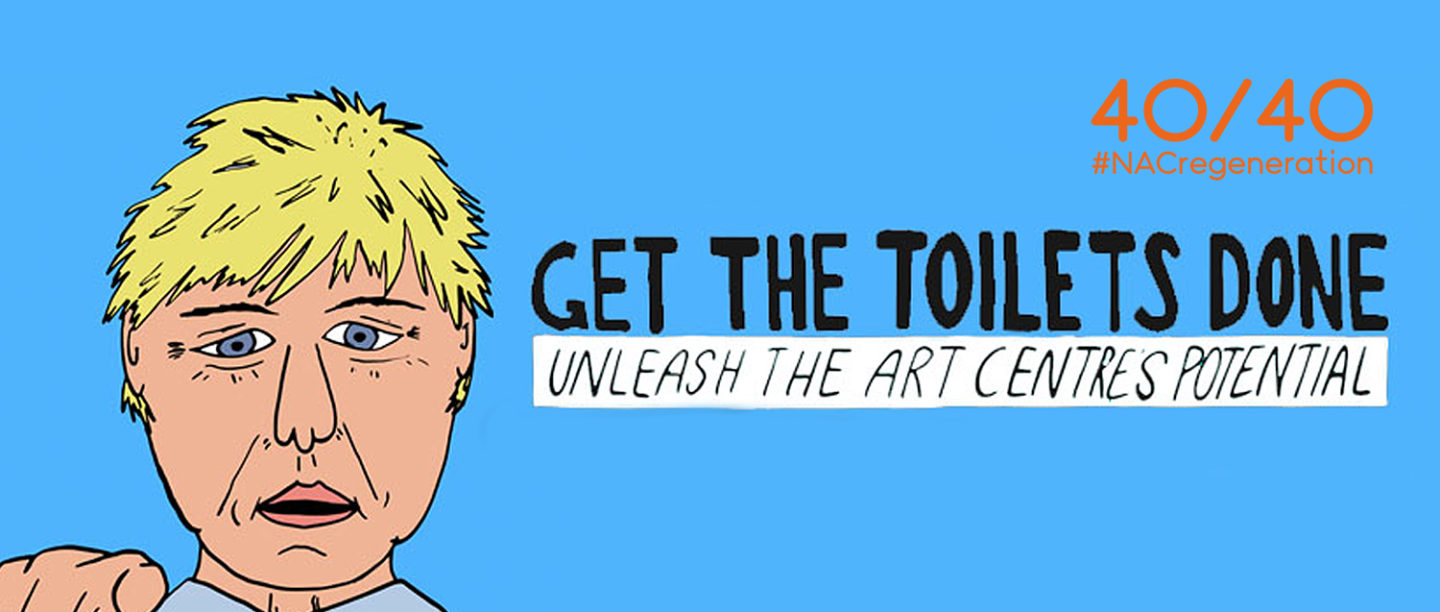 Progress
#NACregeneration has been an interesting and enlightening journey for all of us here at Norwich Arts Centre and we're so proud to have made it to the half way point, October 2019, with Phase 1 of the project complete and 23k of the 40k raised!

#Getthetoiletsdone
It's time to get the Norwich Arts Centre toilets done!
Help us reach our final target by Summer 2020 to enable us to totally refurbish the women's, men's and access toilet as well as building a brand new gender neutral toilet.
We aim to have the new toilets in full working flushable order by September 2020 just in time for our 40th anniversary?
Your contribution will make an impact, whether you donate £5 or £500. Every little bit helps. Thank you for your support!
Thanks to Liam Clark for the artwork.
Donate
We still need your help to unlock the remaining funding!
If everyone who's visited or performed at NAC over the years gives just £1 to #NACregeneration it will make a huge difference to the future of the venue.
Online
Donate right here! Add a donation to your basket below.
In person
Drop a donation in one of our donation boxes at the box office and bar.
Text
Text NACFORTY to 70085 to give £1 Or NACMONTHLY to give £1 each month (This costs your donation amount plus two standard rate messages. Thereafter you will be charged £1 per month). You can also give £3, £5, £10, £15 or £20 by adding the number 3, 5, 10, 15 or 20 to your message (eg. NACFORTY 10 to donate £10 one off or NACMONTHLY 10 to donate £10 each month).
Project History
In October 2018 Norwich Arts Centre was awarded £499,000 funding by Arts Council England for an exciting new regeneration project to transform the venue's accessibility and carbon footprint.
To coincide with our 40th anniversary in 2020 we launched our 40/40 campaign to match fund 40k for our 40th.
Last year we raised 25k which saw the completion of Phase 1 of the refurbishment during the Summer of 2019 which focused on refurbishing the bar and auditorium.
This year we need to match fund the remaining 15k to ensure that we receive the full grant and can complete Phase 2 which will focus on the toilets.
Plans are to completely refurbish the women's, men's and access toilet as well as designing a brand new gender neutral toilet.
We have just launched our 'Get the Toilets Done' campaign to encourage our regular customers to help us reach this last hurdle by the Summer 2020.
Thank you!
Thank you to the following organisations and people for supporting our campaign:
Giles Margarson, Old Barn Audio, Perfect Structures Ltd, Historic England, Oak Street Fabrications, David Claxton, Ashley Ads, Adept, Print To The People, Joel Benjamin, Liam Ashley Clark, Jo Stafford, Adam Maizey, Adrian Forder, Meyer Timber, Mark Wilson, James Huggins, Rachel Kidd, Lighting Technologies,Bentley Fielden, Chubb, Bure Valley Glass, A.C Leigh, David Turner, Vic Bryant, Terry Harcourt, Rob & Mal, Broadland Flooring, Benson Flooring, Blenheim Flooring, KGB Heating, Godstone Decorators, Aircare, Synergy 15, Salvum, Richer Sounds, Fitted Furniture Company, Eastern Cash Registers, Norwich Historic Churches Trust, Sh!t Theatre, Karen Reilly, Taryn Everdeen, Andi Sapey, Anwen Hurt, SHhhh, Sink Ya Teeth, Piers Harrison-Reid, Lucy Grubb, Our Quiet Friends, Adam Buxton, Daudi Matsiko, Hex Friends, Pin-Ups, Wreck, Hello Pedro, Jim Higgs, The Sweetbeats, Albert Cooper & the Blues & Boogie Band, An Evening With Bob, The Wolf Number, Guranfoe, Soyuz Rats, Special Guest, (The) Red Dear, Finn Doherty, Aphra, Loose Leaf Drifters, Olinski's Ornithological Onsomble, Joy Tourette, Milly Hirst, The Blutits, Ben C Winn, Maximilist Banquet, Bill Sav, David Drake, Bill Dithers (Soul Stew), Hips (Soul Stew), Jack Nicholas (All Shapes), Comb (All Shapes), Ronnie Orbit (Raydio / Tropical Shakedown), Keith Slater (Tropical Shakedown / Boiling Point), Anthropologist (Raydio / Quiet Storm),Craig Hill and Rory Hill, The High Points, Spacehopper, Damian Riley – Smith, Anita Ujszaszi, Helen Linehan, Nina Nannar, Pro.Fab, Stephen Capper, Eddie Wilder, Dean Charnley, Fraiser White, Liv and The House of Daze, the Attitude is Everything charity.