Digital Brochure
Take a look at our latest brochure HERE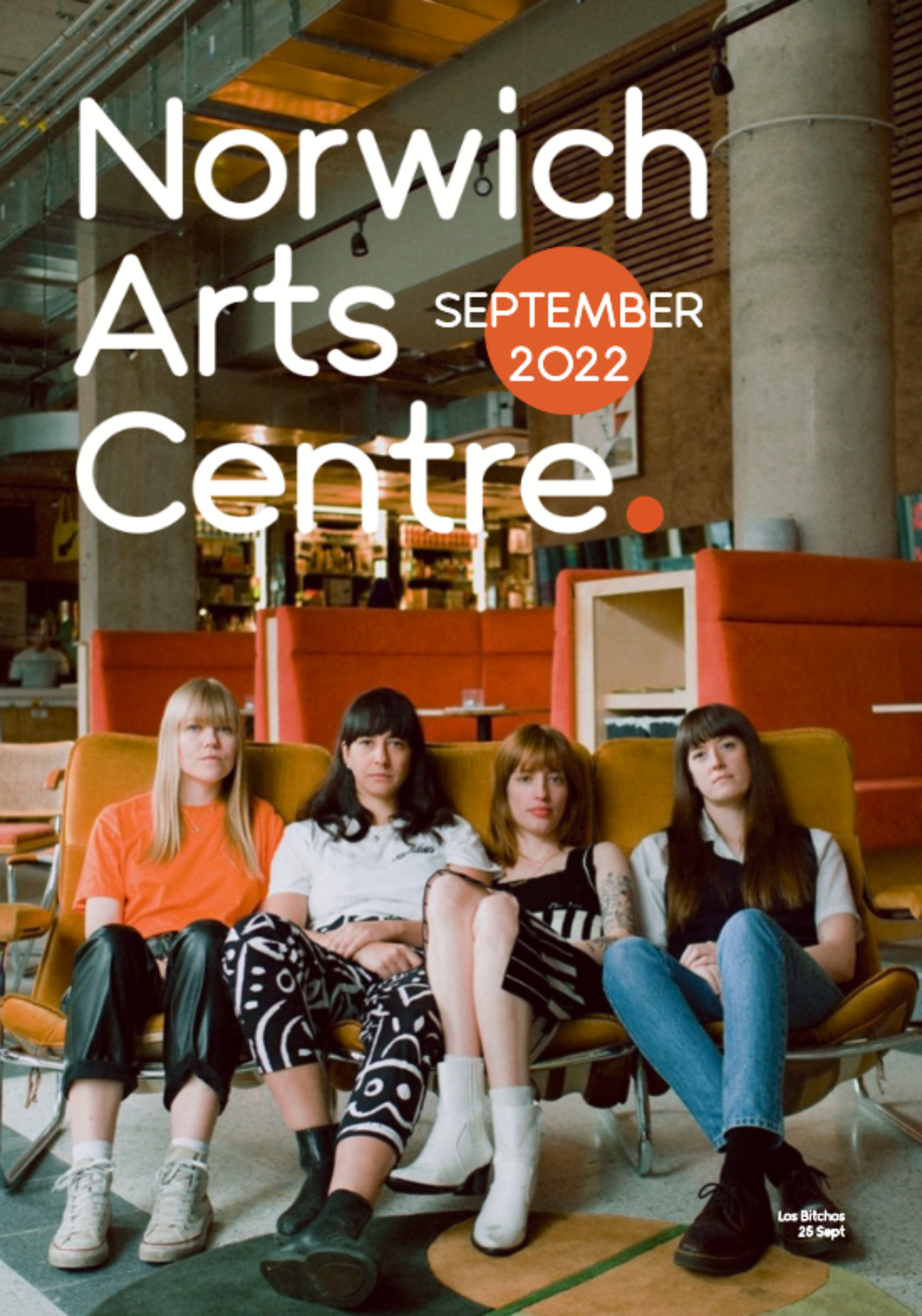 How to Book
Tickets can be booked online through our website. Please see What's On for details of upcoming events and booking links.
If you have a question about an event or a ticketing enquiry, including booking a personal assistant ticket or claiming a refund please email boxoffice@norwichartscentre.co.uk.
You can also call us on 01603 660352, leave us a message and we will return your call.
We aim to return calls and e-mails within 24 hours Monday-Friday (closed bank holidays).
The venue opens at 7pm for our evening events.
Tickets
We do not print physical tickets, instead you will receive a e-ticket by email – please show this to the box office on your phone or device when you arrive for the show.
If you're unable to do this please make a note of the Order ID code in your confirmation email and quote this at the box office. You may also be asked for photo identification.
We like to think green here at NAC so please show us e-tickets on your phone rather than printing your e-mail.
Booking Admin Fees
Admin fees are charged on all payment types, cash, card and online. This is to cover essential admin costs associated with running our Box Office – including bank charges, staffing, our ticketing system and building overheads. They also enable us to keep our ticket prices as low as we can for you. Please not these fees are non-refundable.
£1.50 (per ticket) for face values up to £9.99
£2.00 (per ticket) for face values £10.00 – £14.99
£2.50 (per ticket) for face values £15.00 – £19.99
£3.00 (per ticket) for face values above £20.00 – £24.99
£3.50 (per ticket) for face values above £25.00 – £29.99
Continues in this pattern for £30 +
Outside events, such as festivals, on sale at NAC will be subject to different admin fees and you will be advised on this when purchasing tickets.
Refunds
If you can't attend a show…
Book with confidence! We understand coming back to live events can be daunting so we are trialing an open credit refunds policy for events until September 2022.
48 hours notice needed Mon-Fri. If you or any of your party can't attend an event we will offer a refund to NAC credit which can be used against a future purchase (no expiry date). To get a credit refund on tickets please call 01603 660352 or email marketing@norwichartscentre.co.uk during office hours Monday-Friday 10am – 2pm.
If a show is cancelled or rescheduled…
If an event is cancelled, you will be contacted by email and offered a refund to NAC credit, donation or refund to the original payment.
If an event is rescheduled, you will be contacted by email with the new date. Tickets will remain valid. If you can't attend the new date please contact us for a refund to NAC credit, donation or refund.
Please note that booking fees are non-refundable.
Concessions
Concessions are indicated where available. We offer concessions to children under the age of 16, adults aged 60 or over, students in full-time education, Go For Less card holders, those on Income Support, registered disabled and under 25's. Proof of status must be shown when booking or collecting tickets.
Wheelchair users and visually impaired customers are entitled to one complimentary ticket for an escort.
Age Restrictions
Some of our events may have specific age guidance which will be advertised on the event page. Of our website. Otherwise under 14s must be accompanied by an adult.
Children under 3 years may attend family events for free if no seat is required
Pay What You Can Afford (PWYCA)
Tickets for some of our shows are sold on a 'pay what you can' basis. We want everyone, regardless of income, to have the chance to experience some of the innovative new work we offer.
To book PWYCA tickets click on the BUY TICKETS button on the show page and choose from the list of payment options. Prices range from £4 to £12.
Seating / Standing
We host a mixture of standing and seated events, this information will be on your ticket.
Seated events operate on a first-come-first-served basis. When a seated event sells out standing tickets will be added at the same price.
Please book early and arrive early to avoid disappointment. Auditorium doors open 15 minutes prior to the advertised start time, however you are welcome to enjoy a pre-show drink in our bar.
Please note that late seated customers will not be guaranteed a seat and they may be offered to standing customers.
Accessibility
People with access needs are entitled to one complimentary ticket for a personal assistant.
For more information please see Accessibility information.
Disclaimers
All information on this site is updated as regularly as possible.
If you are travelling from afar or in adverse weather conditions we recommend contacting the Box Office on 01603 660352 for up to date information on an event.
If an event is cancelled or postponed we will announce online and endeavour to contact all ticket purchasers. It may not always be possible to contact customers individually if an event is cancelled at short notice.
Norwich Arts Centre reserves the right to refuse admission.