Norwich Arts Centre is committed to making the venue accessible to everyone so they can enjoy the whole programme. We always try to accommodate access needs to the best of our ability, within the constraints of our historic building whilst adhering to health and safety regulations. Do not hesitate to contact us prior to your visit so we can accommodate for your needs.
In April 2022 we received a GOLD Award from Attitude Is Everything.
Attitude is Everything improves Deaf and disabled people's access to live music by working in partnership with audiences, artists and the music industry.

We are a disability confident level 2 employer.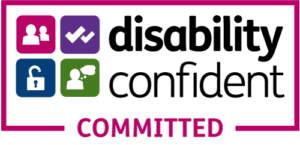 You can download the following information in a Word document by clicking HERE.
Audio and Digital Brochure
December 2023 Audio Brochure
December 2023 Digital Brochure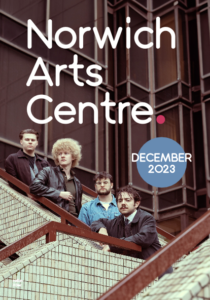 Tour the venue
Ticketing
If you require the support of a carer or companion to access Norwich Arts Centre, complimentary tickets are available to Personal Assistants. Please contact the box office on 01603 660352 or e-mail boxoffice@norwichartscentre.co.uk to book these.
To arrange an appointment to book a ticket in-person please call box office on 01603 660352 or e-mail boxoffice@norwichartscentre.co.uk
If you are unable to attend an event for long-term health related reasons, please contact boxoffice@norwichartscentre.co.uk
Bookable Access Facilities
For standing events there is a designated viewing area behind our sound desk for those who require a seat or are in a wheelchair.
For seated events, we are able to reserve spaces for wheelchairs and seats next to them for their accompanying party.
If you would like to arrange a reservation of a chair or wheelchair space, please contact the box office to arrange on 01603 660352 / boxoffice@norwichartscentre.co.uk
We can also provide drinks service to our viewing area, please request this when reserving your seat / space.
If you need early access to the auditorium or find queuing difficult, please see our Duty Manager when you arrive for the event.
Travel Guide
Unfortunately, NAC doesn't have any parking however there is a small amount of on street parking outside the venue. Here's a link to blue badge parking bays in Norwich – https://goo.gl/1saA6A
For taxi/drop offs, there is space right outside Norwich Arts Centre's gate.
The closest bus stop to NAC is 0.4 miles away. (Charles Square, Dereham Road, Norwich, NR2 4HY)
Norwich bus station is 0.7 miles away. (Norwich Bus Station, Queens Rd, Norwich NR1 3GX)
Norwich train station is 0.9 miles away. (Station Approach, Norwich, NR1)
Arrival Guide
Opening hours:
Doors usually open at 7pm for evening events but this can sometimes change so please contact us prior to your arrival to confirm. If you require early entrance due to access needs, please contact Bradley or the box office to arrange.
Upon arrival you will be greeted by our friendly front of house team. At the box office you will be required to present an e-ticket or a reference number and maybe some ID. If you have any questions, please do not hesitate to speak to a member of the front of house team, bar staff or security who will be able to answer your questions.
If you have any concerns or need assistance while you visit us, please contact any member of staff and they will help you or contact a Duty Manager.
Venue Description
NAC has level access upon entry, with the door having a push pad entry system.
There are induction loops in the box office, can bar and an infrared loop in the main auditorium.
We have a low box office desk and bar.
The auditorium has a push pad entry system, a viewing platform and a ramp down to the main space. The bar is situated on the ground floor with level access through.
There are accessible toilets on the ground floor, close to both the auditorium and bar. There are grab rails and baby changing facilities.
Unfortunately our back garden is not accessible through the main building, with it having 4 large descending steps. If you would like to access our back garden during an event, please speak to a member of our team who can direct you round to the back garden, off NAC premises.
Euan's guide – Access reviews
Toilets
The accessible toilet is on the ground floor, just 10m from the viewing area. The toilet has grab rails and also an alarm, in case you may need assistance. There are also baby-changing facilities in this toilet.
Hearing Loops
We have Ampetronic hearing loops at the box office main entrance, pop-up bar in the foyer and our main bar. In the auditorium we have an infra-red system with neck loop receivers available for performances. We recommend booking these in advance by contacting the box office on 01603 660352 or e-mailing our Access Officer Bradley.
Customers with medical requirements
We welcome all customers who need to bring medical equipment, medicine, food or drink in to the venue to manage a medical condition. If you have any concerns, please contact us to discuss your needs. Whilst in the venue, if you have an emergency, please approach the front of house team or duty manager who will be able to assist you.
Assistance Dogs
We welcome all registered assistance dogs into the venue. Please contact us prior to your arrival at the venue so we can make arrangements for you, so you have enough space for you and your dog.
Strobe Lighting
Strobe lighting may be in use at some of our events. We will always put warning signs up on the doors to the auditorium. If you have any concerns, please do contact us to discuss.
Access Officer
Bradley Glasspoole
bradley@norwichartscentre.co.uk
01603 660352