Will Teather – Revisiting the paintings of Strangers' Hall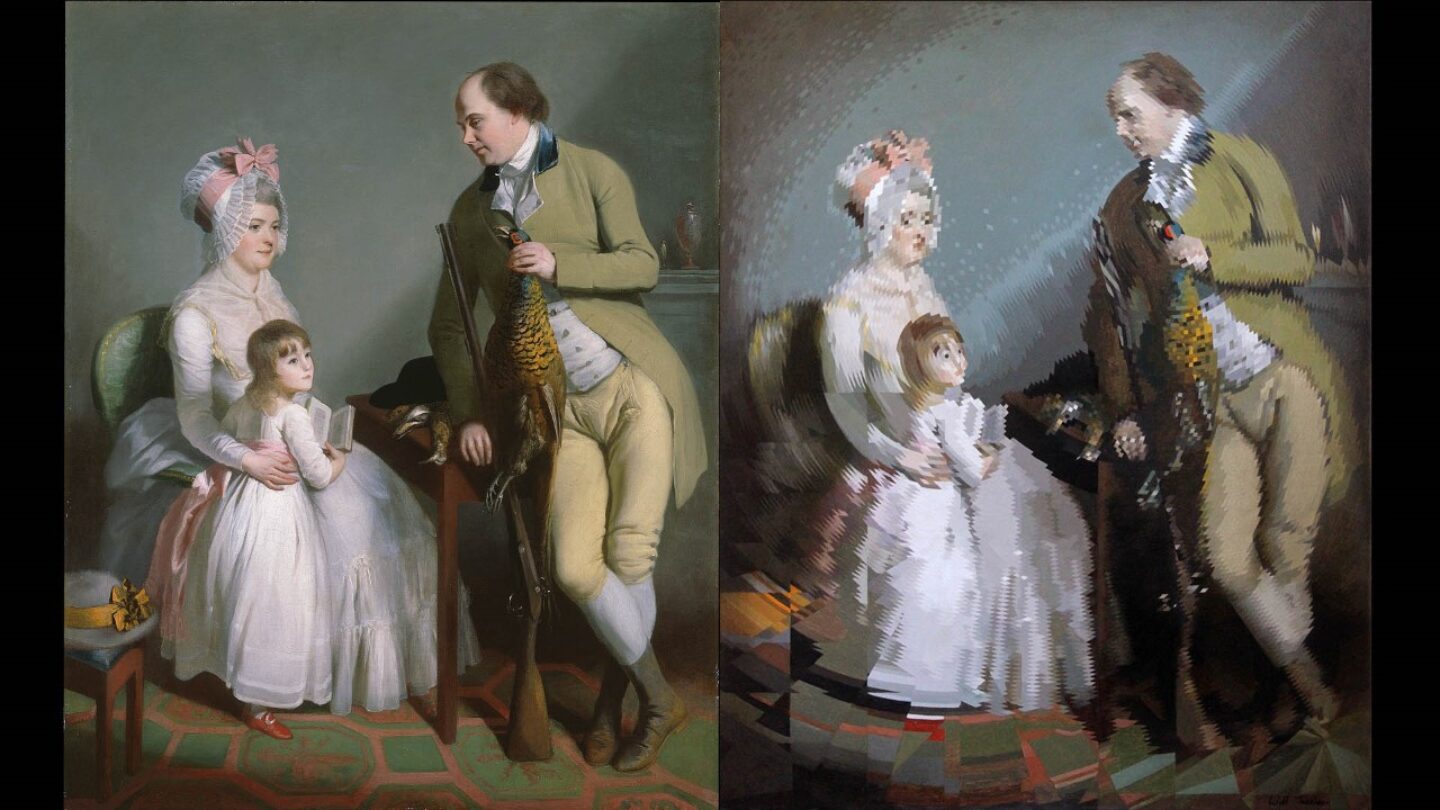 Following a long lockdown closure, Strangers' Hall are able to open their doors once again and host the exhibition of NAC Supported Artist Will Teather with a series of works entitled Revisiting the paintings of Strangers' Hall.
Revisiting the paintings of Strangers' Hall
Will Teather exhibition at Strangers' Hall, Norwich, until 15th November 2021
Open Sundays 1-4.30pm
Please check with Strangers' Hall for updates to opening hours
Strangers' Hall is hosting five new paintings designed by artist Will Teather, that deconstruct the composition of historical artworks within the museum collection. The artist's new paintings are hung side by side the originals, helping visitors see the museum collections afresh.
The artist's fractured reinterpretations reference both pixilation and the long-standing idea of sacred geometry and energy points within historical paintings.
Will Teather explains:
"The Georgian Dining Room of Stranger's Hall seems like a perfect setting for this project. The paintings of this period are often very carefully composed, including the examples here in the museum's collection. My fractal reinterpretations are intended to explode the geometry implied within these historical compositions around their key energy points. The results have often been described as somewhat psychedelic and seem like a glitched version of the originals. I often feel like historic paintings are other worldly, acting as a portal into the past, and these new paintings respond to this in many ways. The new artworks are intended as both reactionary and revolutionary, celebrating the underlying structures of realist painting yet creating an almost automated response. The painting process is a mixture of careful planning, painting with a restricted pallet appropriate to the artwork and a series of specialist glazing techniques of my own design."
Supported by Arts Council England, Norfolk Arts Service and Norwich Arts Centre.
The artist would also like to thank his assistants for this project, Sarah Beare and Vicky Khun
About the artist
Will Teather's work has been exhibited internationally to acclaim, with recent exhibitions including New York's RJD Gallery, Artwars at Red Dot Miami and as a finalist in the London Contemporary Art Prize. His studio is based in Norwich, where he is the Artist-in-Residence for Norwich Arts Centre, following on from previous residencies with venues in New York and Aberdeen.