The TOAST Poetry blog with Lewis Buxton, Co-Director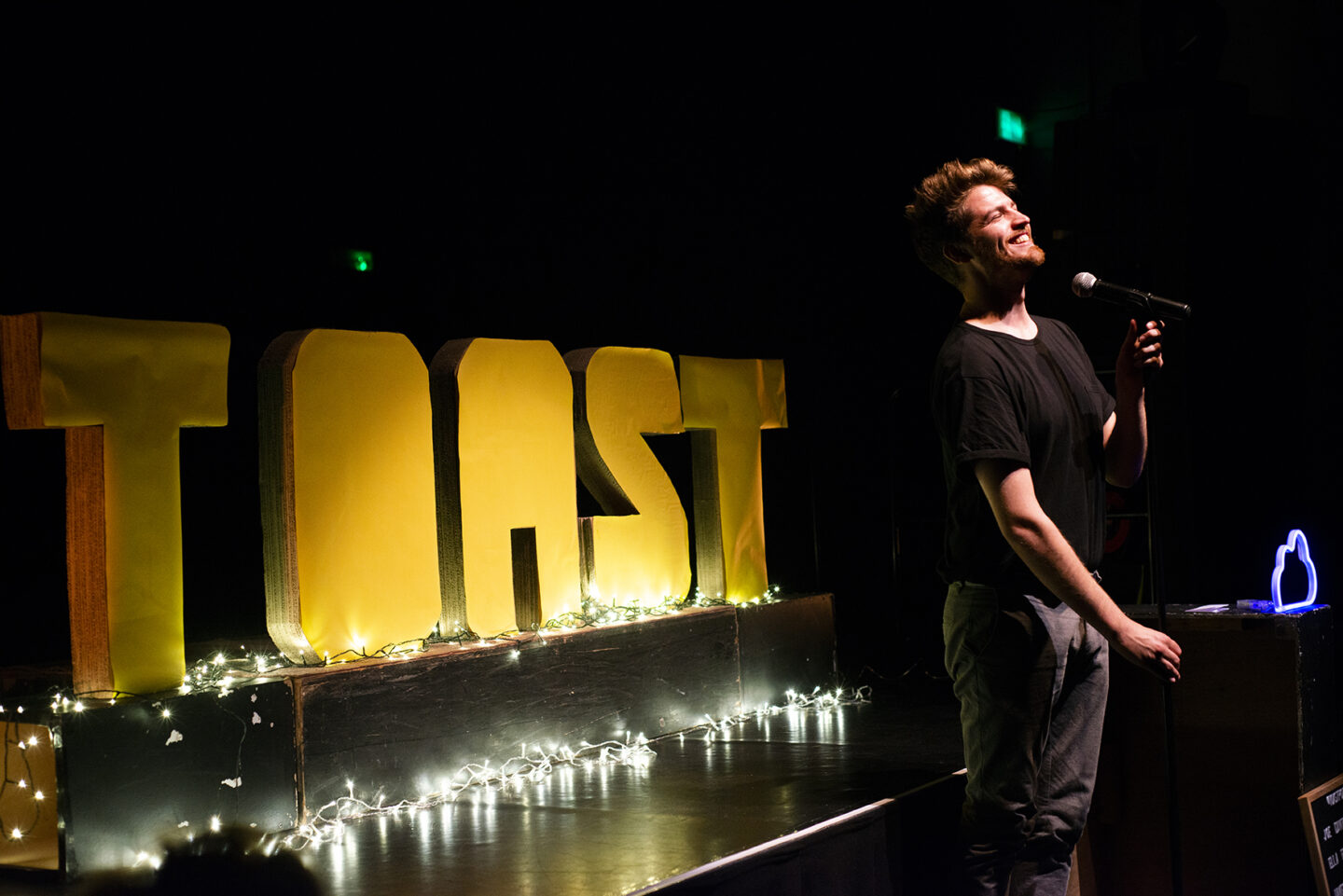 We asked Lewis Buxton, the Co-Director of TOAST Poetry to tell us a bit about TOAST and what they've been up to…
TOAST is the Norwich Arts Centre's resident poetry night. We bring the best poets and spoken word artists from around the world to Norwich. Think of us as the Live at the Apollo for spoken word. It's the joy of stand up, the passion of theatre and the energy of music all rolled into one. We don't believe it's better or smarter than other art forms or audiences but it's different: it's quirky, it lives in the margins of people's lives, sidelines of football pitches and corners of pubs, it's whispered into diaries, spoken at weddings and funerals, and snuck into Leonard Cohen lyrics. And it's this poetry that we give a stage and microphone to each month – poetry for you.
The Norwich Arts Centre has supported TOAST from the beginning. Since 2018 we've been doing gigs in St Swithins church, from humble beginnings in the bar, to the main gig space. NAC have helped us make an event that brings over a hundred people a month together to watch and applaud poetry, thinking, laughing and – sometimes – crying together. We have booked internationally renowned poets and award winning artists to headline our events. Buddy Wakefield, Roger Robinson and Joelle Taylor have all performed at TOAST as well as launching the careers of new poets onto the UK scene. Because of NAC's recent refurbishment and excellent accessibility standards, we've been able to make TOAST the most accessible poetry night in the county. It's this kind of partnership, between artists and organisations, that allows real art to get made. And real audiences to be reached. We're a night for everyone – whether you loved your poetry GCSE anthology or haven't thought about couplets since school, TOAST has an open door policy for all (literally, we have pay what you can afford tickets and free tickets for those for whom cost would be prohibitive).
We've branched out into shows for teenagers in schools (TOAST/ed) and shows for children (TOASTies). But our flagship show TOAST Live at the NAC will always be the centre of what we do. Our newest project is taking our flagship show to Sheringham for TOAST on the Coast: all the usual excitement, energy and quality but with extra sea air and chips. We recently did our first performance at the Sheringham Little Theatre and hope to do many more in the future: working with the local community, finding new writers along the North Norfolk coast, and building stronger links between Norwich's thriving art scene and the excellent writing being done in rural communities. But though we go away for a bit but we always come back for our monthly poetry show at the Norwich Arts Centre. Our next one is on 26th June 2022, featuring Hibaq Osman, Tom Sastry and Yomi Sode.
Lewis Buxton, Co-Director, TOAST Poetry