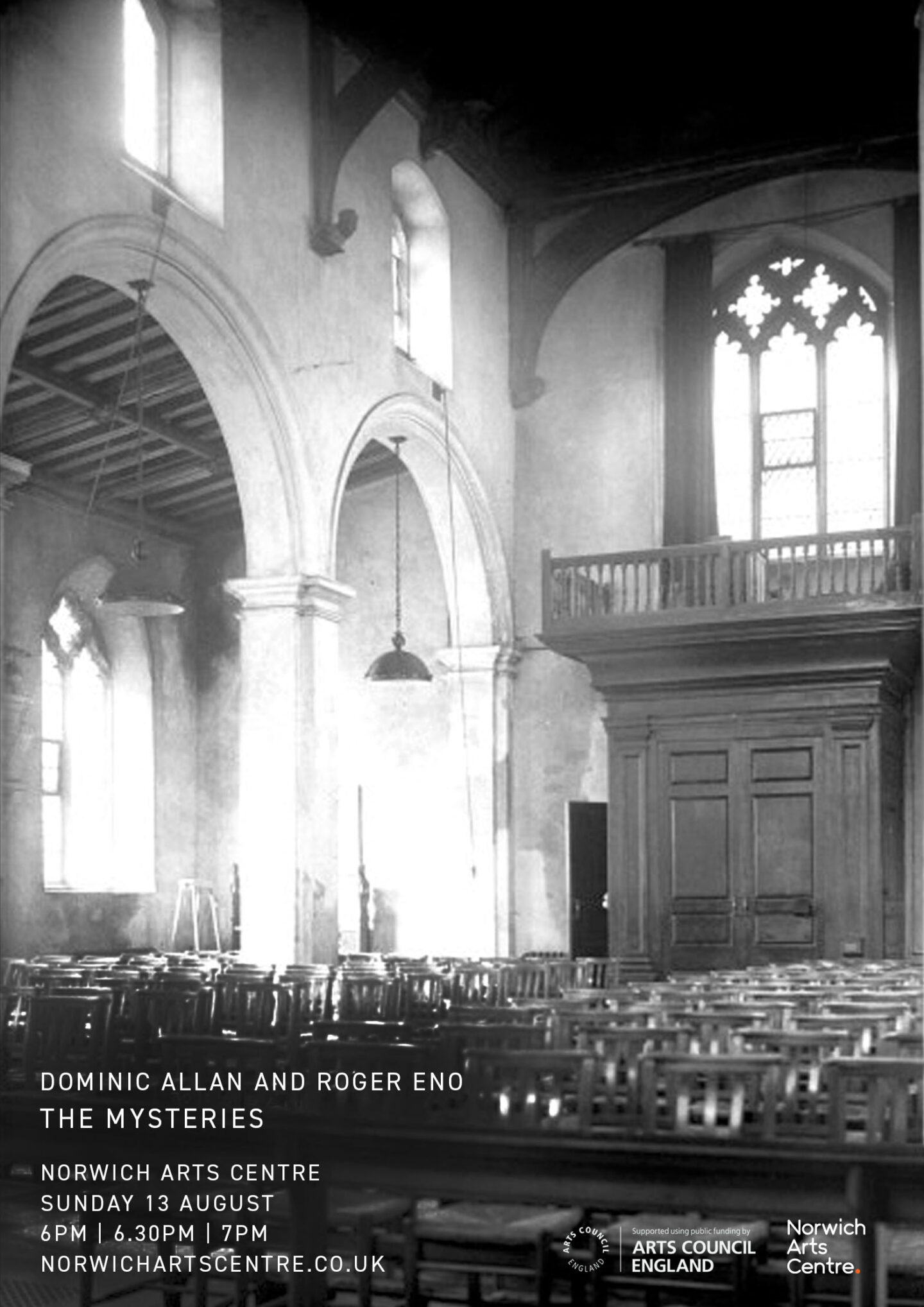 The Mysteries is an atmospheric and intimate portrait of the human condition explored through the experience of mature women.
In 'The Mysteries', artist Dominic and musician Roger utilises the power of stasis. Entering the room, a handful of people at a time, viewers have 15 minutes to write their own internal script, to interpret for themselves what they see and to draw their own conclusions.
We caught up with one of the artists behind the piece Dominic Allan for a quick Q & A…
Tell us a bit about your upcoming performance The Mysteries. What is the concept behind it and who have you collaborated with?
I wanted to make an autobiographical work about my 80 year old Mother and work with women of her age. I'm working with musician Roger Eno, he's an incredible talent. We clicked from day one. We've been on a two year journey with this piece and we're privileged to be working with fantastic performers. It's experimental, content driven. Loaded but sparse. It's deliberately left open for you to make your own interpretation.
Can you give us some background to your artistic style and influences?
What I do is multi-disciplinary; there isn't one 'house style', ideas dictate outcomes. The works become performative, sculptural, photographic or text based. I often like inviting people to respond with me collaboratively to a given context.
I think influence is subtle. It can range from aspects of Andy Warhol's ideologies to Stuart Brisley's approach to connecting with the audience. From Vanessa Bell to Claes Oldenberg. I'm particularly interested in the environments created by playwrights, dramatists and screenwriters. For example, Harold Pinter, Carol Churchill, Jim Cartwright, Dennis Potter, Alan Clarke, David Eldridge. Individual works influence me, for example, Derek Jarman's film 'The Last of England'. The films of Lynne Ramsey. I'm interested in how Britishness, especially during the 20th century has been continually deconstructed, from the re-imagined worlds of Paul Nash to Steve McQueen, plus Shane Meadows and Helen Chadwick. For literary escapism I run to Graham Greene. I think Mike Nelson is important. My biggest influence is probably the teaching I was exposed to at Chelsea Art School from 1995 – 1999. There we were taught to consider the total environment when making a work. That's influenced how I communicate projects with the world, through working collaboratively with various designers. Grizedale Arts (Cumbria) from 1999 to today also exert an influence.
What is your connection to NAC / how has it supported your work?
I've known Director Pasco Q Kevlin for about 10 years, his humour and support from day one has been magnificent. We worked briefly on a project in Luton and conversations just continued to where we are today. I admire his commitment to artists and continually presenting new culture, and established ones. He's significant in the British cultural landscape.
What do you most enjoy about producing a new piece of work?
The excitement of possibilities, the initial gush of response to context. I never know how something is going to turn out.
What's next?
My biggest public art commission, joyfully in my hometown.
Work aside, what do you like to do in Norfolk on a day off?
Eat fish and chips in Winterton-on-Sea or try my best to doze off in the infinite utopia of Holkham beach. The arcades in Yarmouth are my biggest Norfolk vice.
The Mysteries
Catch The Mysteries at Norwich Arts Centre on Sunday 13 August at 6pm, 6.30pm or 7pm | Duration: 15 mins | Pay What You Can Afford
Poster features St Swithin's Church (NAC)