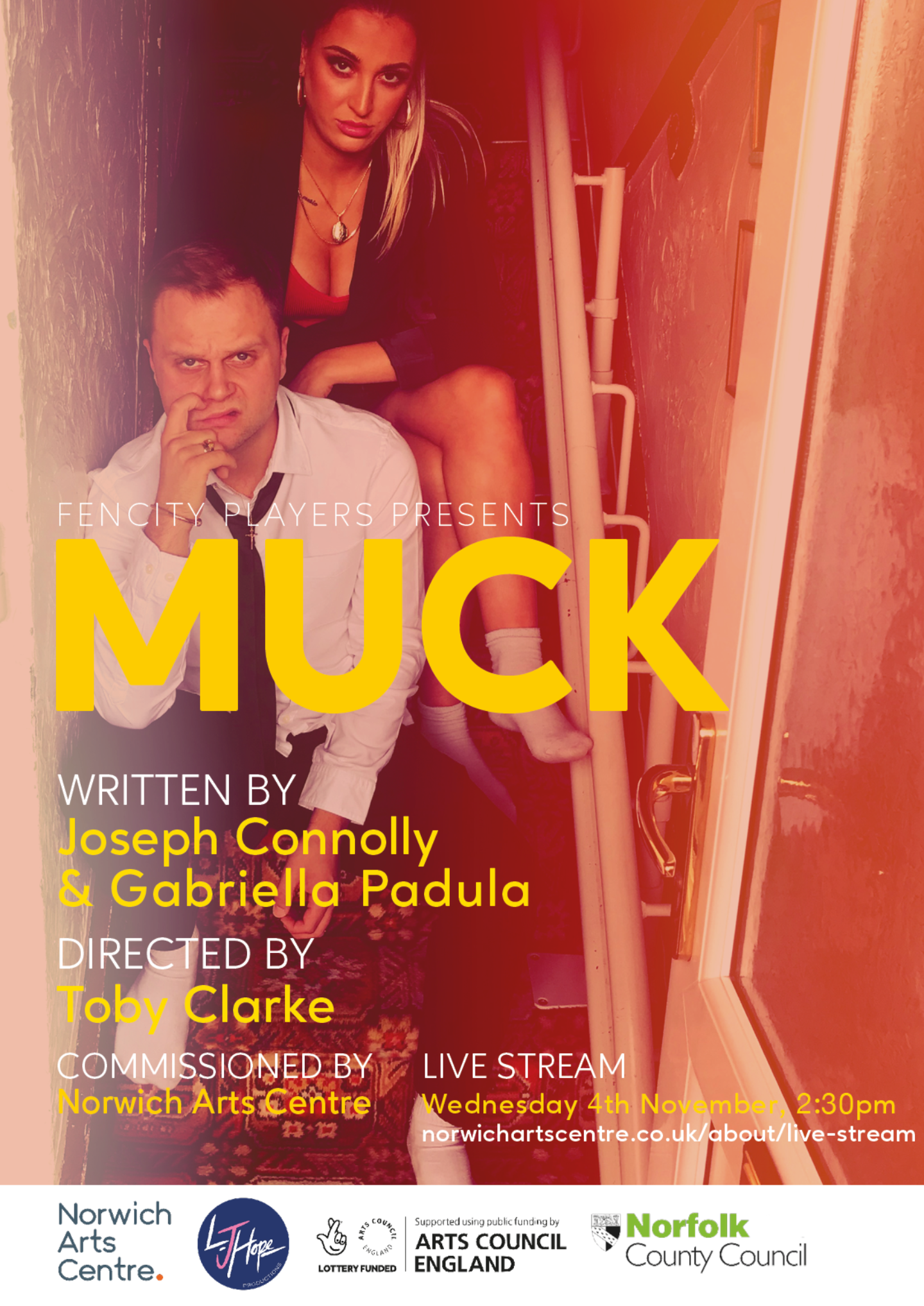 Wednesday 4 Nov | 2.30pm | Live Stream
18+
Fencity Players are delighted to invite you to the live streaming of scenes from their new play MUCK.
Dysfunctional siblings, Kelly and George, are thrown back together after the death of their cantankerous Nan.
MUCK is a dark and dirty comedy about the harsh reality of trying to escape your past when the love for your family pulls you back there.
About the Team
Joseph Connolly is a British/Irish actor and writer from East Anglia, based in the Fens.
Recent credits include: Alphabetical Gardens Radio play (TDTWT) CAMP! (Soho Theatre and Norfolk theatres); Warheads (the Park Theatre); BAIL (Franklyn films); Meet Me in St. Louis, Louis (Centre Pompidou, Paris); Three Types of Wind in Trieste (Schwankalle, Bremen, Germany)
Gabriella Padula is a British/ Italian Actress and Writer from North London, based in Islington.
Recent Credits include: Playtime (Jermaine Grant films), Borrowed (The Park Theatre), 'Friends'- Raye (Polydor Records music video), Ralph Styles Ultra (Spring loaded films) Muck (Red Gates Theatre)
Toby Clarke is a Director, Playwright and Acting Coach. The last play he directed, Warheads, was nominated for an Olivier Award. As a Writer, he has been shortlisted (IMAM, 2013) and longlisted (Me., 2019) for the Bruntwood Playwriting Award and his worked has toured nationally to theatres like the Bristol Old Vic Studio and the New Wimbledon Studio.
www.tobyclarkedirector.com
Lucy Farrant (LJ Hope Productions) is a creative producer based in East Anglia Recent theatre credits include Shed by Martin Figura and CAMP! By James McDermott and Charlie Caine. She is the creator and driving force behind spoken word events: True Stories Live, Balloon and A Respectful Conversation.
Please note that this Live Stream is for over 18s only. The play contains strong language, shows drug taking and has adult themes throughout.