See Norwich Arts Centre's Environmental policy document HERE
Climate Emergency
We've joined organisations around the world to declared a climate emergency. By declaring a climate emergency we've made a commitment to take action to reduce our carbon emissions and limit the climate crisis.
Norfolk Carbon Charter – Gold Level
Following Norwich Arts Centre's Re-assessment in February 2020, we received the Charter Panel approved accreditation at Gold Level. The Carbon Charter is awarded to organisations that are monitoring and reducing their carbon emissions.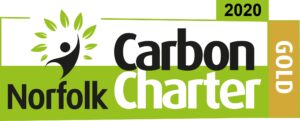 Environmental Policy 2021 – 2022
Norwich Arts Centre aims to:
• Continue to reduce Norwich Arts Centre's energy consumption and CO2 emissions and reduce landfill waste by composting and recycling more.
• Better advocacy of environmental issues such as sustainability, upcycling and re-using within the local community.
• Integrate the consideration of environmental concerns and impacts into all decision making and activities.
• Continue to improve on our environmental commitment of the organisation from procurement to programming and embed it in our core and strategic values.
• Develop our outside garden space to increase wildlife activity and as a wellbeing space for staff and community groups to enjoy.