See Norwich Arts Centre's Environmental policy document HERE.
Norfolk Carbon Charter – Gold Level
Following Norwich Arts Centre's Re-assessment in February 2020, we received the Charter Panel approved accreditation at Gold Level. The Carbon Charter is awarded to organisations that are monitoring and reducing their carbon emissions.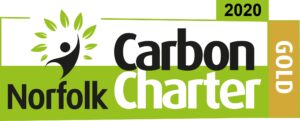 Environmental Policy 2020 – 2022
Norwich Arts Centre aims to:
● Continue to reduce Norwich Arts Centre's resource consumption, pollution and Co2 emissions.
● Continue to reduce Norwich Arts Centre's wastage; especially landfill.
● Actively promote recycling amongst artists, customers, sta! and suppliers.
● Integrate the consideration of environmental concerns and impacts into all decision making and activities
● Norwich Arts Centre is committed to continuing the work started in 2008, with our Environmental Review Report by monitoring and improving our action plan.
● Programme more events with an environmental theme.