Norwich Psych Fest WEEKEND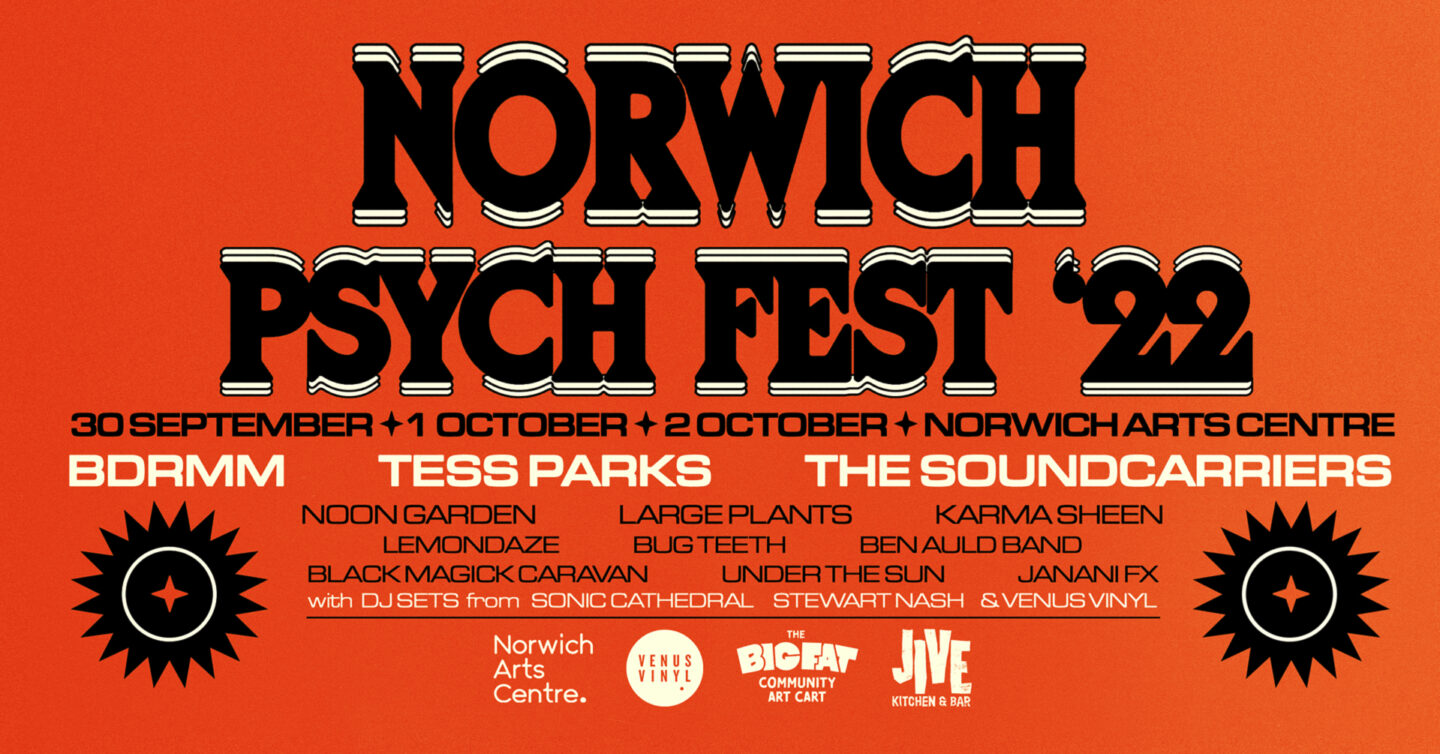 Friday 30 September – Sunday 2 October 2022
Cinecide proudly presents the second edition of the Norwich Psych Fest take over at the Norwich Arts Centre this Autumn.
The festival returns for a weekend take over of three consecutive nights of fuzzed out psychedelic bliss.
Expect a concoctions of repetitious psychedlic genres such as noise rock, shoe gaze, dream pop and much more!
FRIDAY
The Soundcarriers were formed in 2007 Nottingham, In their teens, they formed a four-piece with guitarist Little Barrie (now a touring guitarist for Primal Scream and Morrissey) and played hypnotic, groove-based instrumentals, the corollary of their shared love of Can, Pink Floyd, rare groove, soundtracks, library music, acid folk and jazz.Their Magnus opus Entropicalia was release on the legendary Ghost Box Records in 2014
Noon Garden, the moniker of London based musician Charles Prest (Flamingods), is an exotic psych-pop odyssey drawing on worldly sounds from the likes of Francis Bebey and Dur Dur band to Shintaro Sakamoto. Noon Garden conjures up a distant land where one can cut loose to grooves which meander through a wide spectrum of African Disco, Funk, Excotica and Psychedelia.
Karma Sheen is a psychedelic Sufi rock band from London. Spearheaded by songwriter and guitarist Sameer Khan, Karma Sheen have created an eclectic mix of nostalgic 60's psychedelic inspired from the likes of Jimi Hendrix, Cream and The Doors, mixed with the flair of 90s grunge coupled together with creamy Indian classical sounds and Sufi inspired lyrics that complete the mountainous cake of sound that is Karma Sheen.
Janani Fx is the solo project of Eela Tamil creative, Janani Jamuna Arudselvanathan (Gladboy). Self taught musician born in Berlin, and currently residing in Norwich, her music is a blend of eclectic influences ranging from tamil folk, Krautrock, Shoegaze afrobeat and ambient.
SATURDAY
BDRMM are Hull based quintet, blending the lines of dream pop and shoegaze, switching between ethereal melancholy and driving delay with ease. The band were signed to London based label Sonic Cathedral in 2019 and have toured extensively playing slots at some of the biggest festivals and seeing them support tours by legendary acts such as Ride and Mogwai.
Lemondaze are the Cambridge born, London based trio spending their years together gigging relentlessly across the East Anglian scene; taking their dazzling concoction of shoegaze infused indie-rock to the stage in support of names like Ride, Gengahr, Hinds and Bloody Knee.
Bug Teeth is the Norwich based musical project of PJ. Their music creates dreamy, emotional ambient pop with shoegaze influences; think Cocteau Twins meets MBV.
Under The Sun is the solo project of Matt Catling, formed in Ipswich during the 2020 lockdown. Under the Sun has an array of influences from shoegaze, dream pop, electronica and post punk.
SUNDAY
Tess Parks is a singer/songwriter from Toronto, Canada who was signed by Alan McGee (Creation Records) to his label 359 Music after moving to London. In 2013 Tess released her debut solo album 'Blood Hot'. Her next record was a collaboration with Anton Newcombe of The Brian Jonestown Massacre in 2015 called 'I Declare Nothing'.
Large Plants is the post-apocalyptic downer-fuzz rock side project of Jack Sharp, former singer/guitarist from psych-folk luminaries Wolf People. Suddenly without a band and faced with the enforced lockdown of summer 2020. Jack set up in a friend's old barn in Bedfordshire and created a tonne of scuzzy, loner biker-rock.
Ben Auld is a Norwich born self-taught musician, engineer and producer with his debut album Lemongrass out on the US label Earth Libraries. Auld is on course to take the indie pop folk scene by storm.
Black Magick Caravan is the lo-fi, psychedelic folk outfit by Norwich based musician Matt Kennedy (Floral Image/Wreck).