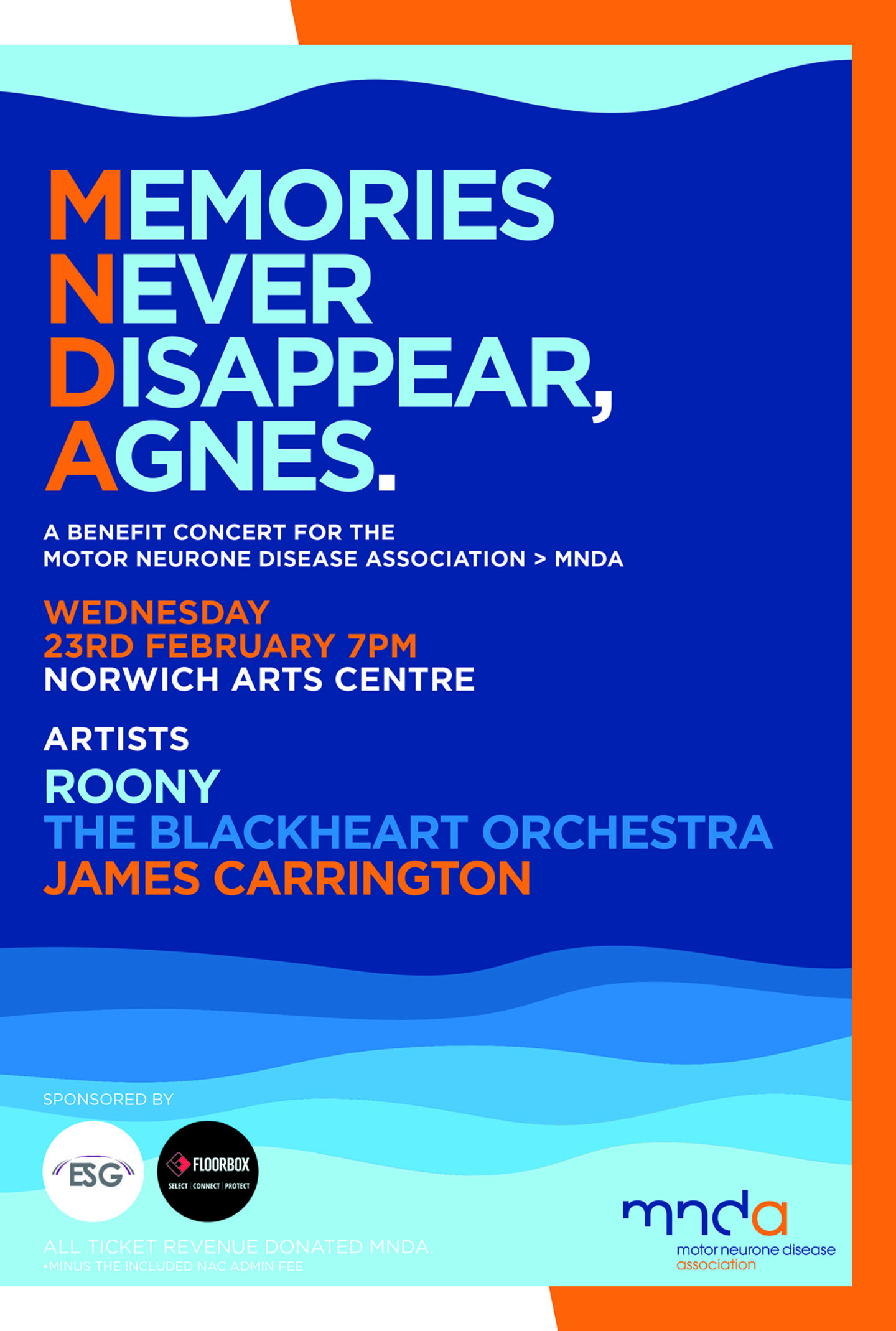 with ROONY + The Blackheart Orchestra + James Carrington
There are about 5000 people with MND in the UK, and about 1100 people are diagnosed every year.
There is no cure for MND.
Agnes lived in Norfolk, working at the Norfolk and Norwich hospitals and Spire Hospital as a radiographer. Diagnosed four years ago, Agnes sadly passed away from MND after a long battle in September 2021.
To create a positive legacy for Agnes, this benefit concert supports the Motor Neurone Disease Association (MNDA).
The event is sponsored, meaning that £20.00 from each ticket sold will go directly to the MNDA to fund research to find a cure.
Three artists are playing, including Norwich based ROONY, opening the evening.
The Blackheart Orchestra
The Manchester-based The Blackheart Orchestra have a new album out in 2022 and have recently played the Royal Albert hall playing with Hawkwind and Eric Clapton.
Their latest release is an adaption (highlighting climate change) of the Manic Street Preacher's classic – If you tolerate this, then your children will be next.
James Carrington
James Carrington is a singer/ songwriter and composer from the UK who emigrated to Los Angeles in 2010. He has been compared to such luminaries as David Gray, Damien Rice, John Mayer, James Taylor and Paul McCartney.
James will be playing with his band in Norwich for the first time and will be launching and playing songs from his new album, A Quiet Place in Bright Sunshine.
Recent high profile cases like Doddy Weir and Rob Burrows have bought the disease to the fore.
The Leeds Rhinos great and Leicester Tigers defence coach, Kevin Sinfield, completed a 101-mile run in his latest fundraising challenge, raising over £1m. The UK Government has also recently pledged £50m to support the challenge of finding the cure. Help us add to these totals and bring an end to this cruellest of diseases.