We want everyone who comes to Norwich Arts Centre to have a great time at our venue and we take your safety very seriously.
There will always be a first-aider on site at all times who is trained to use our on-site defibrillator.
Harassment
We want everyone who comes to Norwich Arts Centre to have a great time. We want you to relax, listen to the music, enjoy time with friends, meet nice new people and feel part of our community without fear of, or without experiencing harassment.
We take a zero tolerance approach to behaviour that is intimidating or humiliating and you are not welcome at the venue if you behave in this way.
We would like to assure you that our team are trained and dedicated to ensuring our customers feel safe. Please talk to us about any concerns you have.
Norwich Arts Centre has a dedicated safe space away from all other visitors and protected by trained staff.
Ask For Angela
If you ever feel like you're not in a safe situation at our venue please speak to a member of our staff and 'Ask for Angela'. The staff will know that you need some assistance getting out of your situation and they will help you out discreetly.
Please 'Ask for Angela' or request access to our safe space if you need it, for any reason.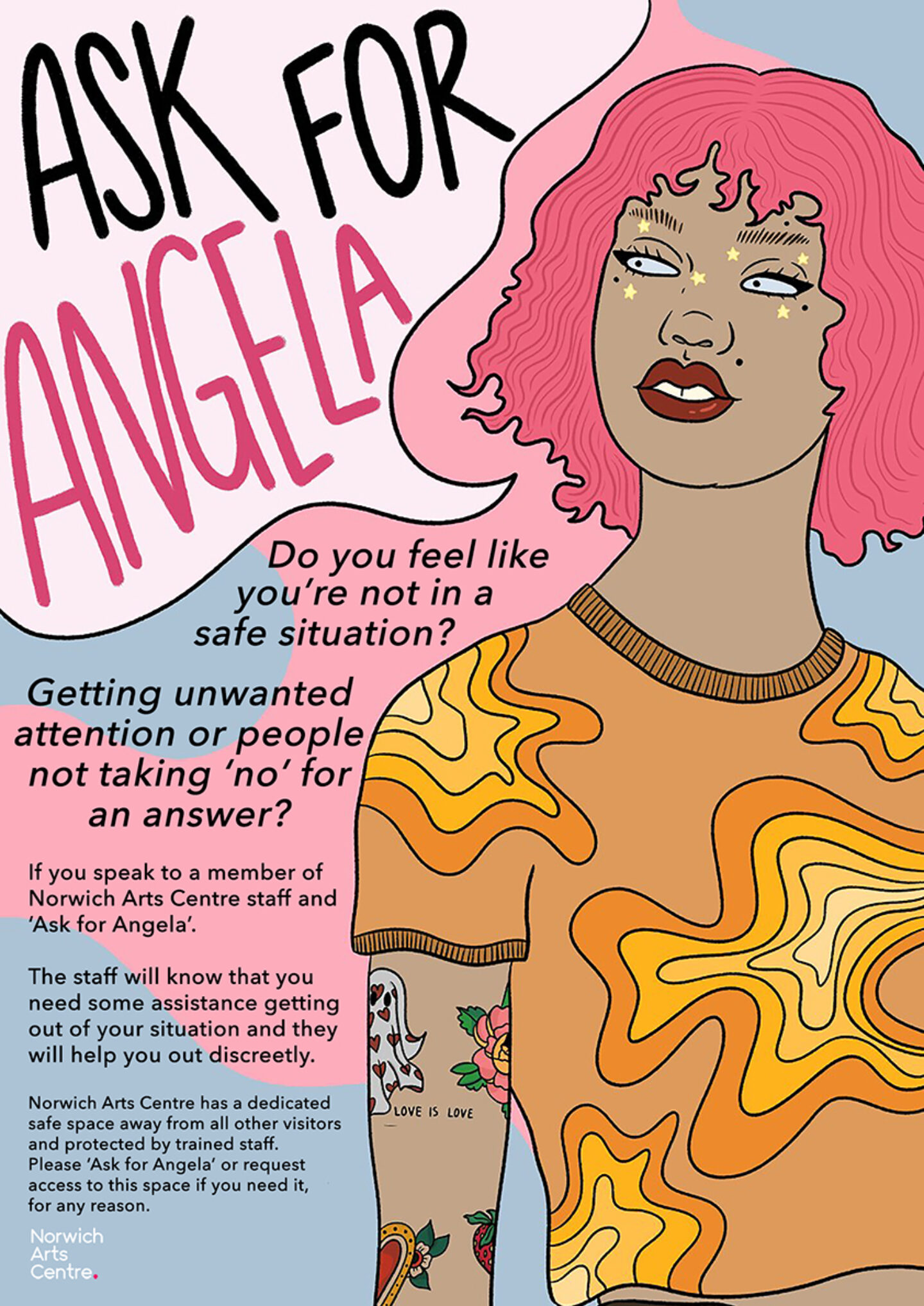 Spiking
Due to the recent rise in spiking at venues in Norwich we want to reassure you that we have measures in place to keep our customers safe.
We have cup lids should you require them.
If you are worried about yourself or someone else please talk to a member of staff and they will deal with the situation quickly, calmly and professionally.
We will always replace any drinks you are concerned about. Your safety is our first priority. We will immediately arrange medical or police assistance if required.
We value any feedback you have about your experience at NAC and anything you think we could be doing better. Please email our safeguarding manager Bradley Glasspoole – bradley@norwichartscentre.co.uk
Covid
(Please note that this information – including the refund policy – is under constant review)
Updated 16 May 2022
We are excited to be open at full capacity and back doing what we love.
However, we are very mindful of our responsibility to keep our staff safe. We are also doing everything we can to to prevent our venue from having to close again in the future.
At all times…
Please be nice, respect our staff and other event attendees.
Please stay at home if you have symptoms of illness or have been in contact in with someone who has COVID-19.
Card payments only please.
In the building…
Hand sanitiser is available for use
Changes to our building…
The toilets have been recently refurbished. The new layout allows for easier social distancing.
There are automated soap and sanitiser dispensers in the toilets. As well as no-touch taps and flushing mechanisms.
The ventilation system in our bar, performers area and toilets has been refurbished and improved in order to improve air circulation.
If a show is cancelled or rescheduled…
If an event is cancelled, you will be contacted by email and offered a refund to NAC credit, donation or the original payment.
If an event is rescheduled, you will be contacted by email with the new date. Tickets will remain valid. If you are unable to attend the new date please contact us for a refund to NAC credit, donation or the original payment.
If you can't attend a show…
Book with confidence! We understand coming back to live events can be daunting so we are trialing an open credit refunds policy for events until September 2022 (48 hours notice needed Mon-Fri). If you or any of your party can't attend an event we will offer a refund to NAC credit which can be used against a future purchase (no expiry date). To get a credit refund on tickets please call 01603 660352 or email marketing@norwichartscentre.co.uk during office hours Monday-Friday 10am – 2pm.
Please note that booking fees are non-refundable.
As the situation changes we will be reviewing and updating these procedures.
Thank you for your understanding.